Photography by PUSD Staff and Students
*****First Day of School - Tuesday, August 15, 2017*****Board Meeting - August 15, 2017 at 6:30 P.M. at PINT*****Follow us on Twitter and Facebook at PUSDK12*****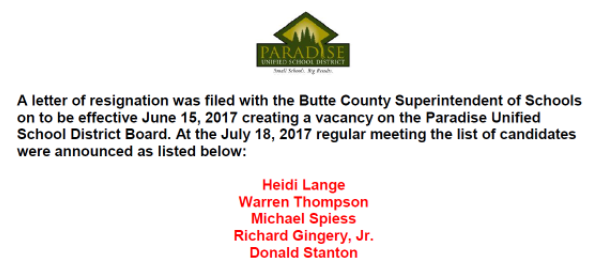 The Board of Trustees will be accepting questions from staff and the public, to be included in the interview process for the PUSD Board Vacancy seat. Please submit your questions to boardmembers@pusdk12.org or Attn: President Judith Peters, Paradise Unified School District, 6696 Clark Road, Paradise, CA 95969 no later than July 26, 2017, 5:00 P.M. The board candidacy interviews will be held in open session on Saturday , July 29, 2017 at 10:00 A.M. at the School District Office in the board room.
California School Dashboard
California is field testing a new website called California School Dashboard, which is designed to help communities across the state access important information about K-12 districts and schools.
PUSD Mission Statement
Paradise Unified School District Mission
The mission of Paradise Unified School District, as the educational leader of the community, is to graduate knowledgeable, productive, responsible citizens who are motivated to continue learning and are able to function successfully—with integrity—in a complex, changing world.
Adopted by PUSD's Board of Education, Administrators, Teachers and Staff June 2004
PUSD's Vision for Excellence –
The educational program educates the "whole child," academically, socially, emotionally and physically.

All staff believes every student will learn and achieve.

Each student experiences an engaging, quality, rigorous curriculum with effective instructional practices.

Effective program options accommodate the interests and needs of all students.

Students and staff feel valued, respected and recognized for accomplishments and achievements.

All facilities are clean, safe, secure and inviting to students, parents, staff and the community.

All decisions will ensure fiscal responsibility and solvency for the District.
Our District Educational Goals
Graduate 100% of our students by providing effective instruction, support and multiple pathway options.

Provide leadership training and staff development to develop the skills, knowledge, strategies and experiences to successfully implement an effective instructional program and the goals of the PUSD Strategic Plan.
Provide school environments that are updated, clean, safe/secure, well equipped and supportive of the school community.

Communicate with and involve parents, community and staff so they are well informed and recognized for their contributions to student learning.
Statement of Non­-Discrimination
The Board of Education is committed to equal opportunity for all individuals in education. District
programs, activities, and practices shall be free from discrimination based on race, color, ancestry,
national origin, ethnic group identification, age, religion, marital or parental status, physical or
mental disability, sex, sexual orientation, gender, gender identity or expression, or genetic
information; the perception of one or more of such characteristics; or association with a person or
group with one or more of these actual or perceived characteristics.
The Superintendent or designee shall notify students, parents/guardians, employees, employee
organizations, applicants for admission and employment, and sources of referral for applicants
about the District's policy on non-discrimination and related complaint procedures.
The District's Non-Discrimination Policy and related informational materials shall be published in a
format that parents/guardians can understand and, when required by law, in a language other than
English. Complaints alleging noncompliance with the District's policy of non-­discrimination
should be directed to Tom Taylor, Director of Human Resources, at the Paradise Unified School District
office (6696 Clark Road, Paradise, California, 95969; 530­-872-­6400 ext. 235). A copy of the
District's Non­-Discrimination Policy is available at the District Office.
Americans with Disabilities Act
District programs and facilities shall be in compliance with the Americans with Disabilities Act
and any implementing standards and/or regulations. The Superintendent or designee shall ensure
that the district provides auxiliary aids and services when necessary to afford individuals with
disabilities equal opportunity to participate in or enjoy the benefits of a service, program, or
activity. Individuals with disabilities shall notify the Superintendent or principal if they have a
disability that requires special assistance or services. Reasonable notification should be given prior
to the school­ sponsored function, program, or meeting.
Complaints Regarding Specified Educational Programs
The PUSD Board of Education recognizes that the district has primary responsibility for ensuring compliance with state and federal laws and regulations governing complaints about specified district educational programs. Those programs
designated unit to receive and investigate complaints shall be Paradise Unified School District Educational Services and its compliance designee(s). This unit shall ensure district compliance.
Child Nutrition Programs, District Contact: Tanya Harter, 872-6429 at 6696 Clark Road, Paradise, CA 95969

Consolidated Categorical Aid Programs, Michelle John, 872-6400 ext. 225

at 6696 Clark Road, Paradise, CA 95969

Section 504, Michelle John, 872-6400 ext. 225 at 6696 Clark Road, Paradise, CA 95969

Special Education Programs, Jennifer Foglesong, 872-6400 ext. 244

at 6696 Clark Road, Paradise, CA 95969

Title IX Coordinator, Tom Taylor, 872-6400 ext. 235 at 6696 Clark Road, Paradise, CA 95969
The Paradise Unified School District will receive and investigate complaints which allege unlawful discrimination on the basis of ethnic group identification, religion, age, sex, sexual orientation, gender, race, ancestry, national origin, color, or physical or mental disability in any program or activity conducted by the district which is funded directly by, or that receives or benefits from, any state financial assistance. The district shall investigate and seek to resolve complaints at the local level and shall follow uniform complaint procedures when addressing such complaints.