Photography by PUSD Staff and Students
*****First Day of School - Tuesday, August 15, 2017*****Board Meeting - Sept. 19, 2017 at 6:30 P.M. at PINT*****Follow us on Twitter and Facebook at PUSDK12*****
Students and Staff Safety is a top priority
Dear Paradise Unified School District Families,
On Monday, August 21, 2017, a total eclipse will cross the entire country, coast-to-coast, for the first time since 1918. Weather permitting; the entire continent will have the opportunity to view an eclipse as the moon passes in front of the sun, casting a shadow on Earth's surface. (www.nasa.gov). Paradise Unified students have been learning about the eclipse during the first days of school.
Many of our schools have purchased approved eclipse-safe viewing glasses for students and staff. The eclipse glasses have certification information with a designated ISO 12312-2 international standard which is approved by NASA and the American Astronomical Society.
Student Safety is a top priority. We will take all precautionary measures to make this experience both safe and enjoyable. Homemade filters or ordinary sunglasses, even very dark ones, are not safe for looking at the sun. Students will not be permitted to look at the sun or partially eclipsed sun through cameras, telescopes, binoculars, or other optical devices, with or without glasses. All students participating in viewing the eclipse will be required to wear eclipse-safe viewing glasses.
Please help us keep your child safe and counsel/discuss the importance of wearing these safety glasses with your child in advance. Students not wearing approved safety glasses will be kept inside during the following times:
If you as the parent or guardian would choose to not let your child participate in the Solar Eclipse observation, please contact your school office to opt out of the activity
If you have any additional questions about the Solar Eclipse observation at your child's school, please contact either your child's teacher or the school principal.
Sincerely,
MIchelle John
Interim Superintendent
Welcome PUSD Students
August 16, 2017
Dear Parents/Guardians,
As your newly appointed interim superintendent, I would like to welcome you to Paradise Unified School District. I began my career with Paradise Unified fifteen years ago, having served as the principal at Paradise Elementary, the assistant principal and principal at Paradise High School, and as the Assistant Superintendent of Educational Services.
One of my goals as interim superintendent will be to develop strong relationships of trust with parents, teachers, and of course, with our students. To do this, we must build a shared vision focused around challenging, supporting, and inspiring our children to be the best they can be.
Whether you are new to the district or returning, I want you to know that your children are in the capable hands of a highly-focused workforce committed to making Paradise Unified School District the most progressive and successful school district in the North Valley.
Like all successful organizations, PUSD is constantly reinventing itself to better serve its customers. We exist in an era of choice and as a result we take nothing for granted, particularly your choice to make PUSD your school district. We have taken great strides towards realizing our mission of being a destination district of choice.
There are a lot of outstanding things happening at our schools. Be sure to check out our school websites, keep an eye on your mail and email, and watch for flyers and other materials that will be sent home with your students the first few days of school to let you know about many of these exciting planned events! We are also active on social media, so you can check us out on Facebook or Twitter – all of which are linked from our web pages.
I look forward to being a partner with you this school year. In the weeks and months ahead, it is my hope to meet many of you so that we may get to know one another. Your encouragement and support will truly benefit and assist your children as they embark upon a wonderful new school year. Please do not hesitate to reach out to me with questions, comments, or concerns. My email is mjohn@pusdk12.org and my office phone number is 872-6400 ext. 223.
Sincerely,
Michelle John
Interim Superintendent
Apply Online FREE & REDUCED School Meal Applications
Paradise Unified School District's Food Services Department believes that good nutrition and learning go hand in hand. The District Food Services department employees are proud and caring professionals. We pride ourselves in working as a team to provide nutritious, appealing meals for the students and staff to promote health today and in the future. Every meal will meet the USDA requirements for nutrition, enabling all students to prepare for academic development.
Breakfast is available at all schools. A copy of breakfast and lunch menus are sent home with all elementary students. In addition all menus are available on this web site; under DEPARTMENTS; FOOD SERVICES.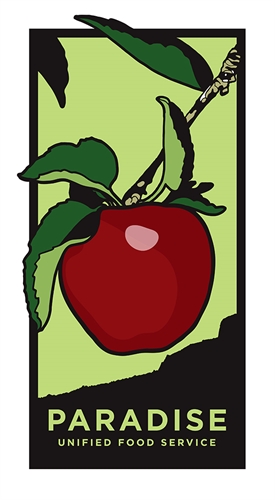 click the following link below:

Employment Opportunities
Facts About Charter Schools in PUSD
Facts About Charter Schools in the
Paradise Unified School District
Five charter schools currently operate within and are authorized by the Paradise Unified School District.
PUSD's enrollment, including charter school pupils, was 4,258 for the 2016-2017 school year, including the 817 students enrolled at charters within the District as identified in the table below.
| | | |
| --- | --- | --- |
| School | Grade Span | Enrollment (2016-2017) |
| Achieve Charter School of Paradise Inc. | K-8 | 233 |
| Children's Community Charter School | K-8 | 235 |
| HomeTech Charter School | K-12 | 139 |
| Paradise Charter Middle School | 6-8 | 155 |
| Paradise eLearning Charter Academy | 9-12 | 55 |
PUSD is the second largest public school district in Butte County behind Chico Unified's 13,975 total enrollment, but remains approximately twice as large as the third, fourth, and fifth largest districts (Oroville City Elementary, Oroville Union High, and Gridley Unified).
Despite enrolling nearly 10,000 less students than Chico Unified, PUSD has a larger percentage of charter school pupils than Chico: 19.2% of students within the geographic boundaries of the PUSD are charter school students, whereas only 14.4% of Chico students are enrolled in charter schools. In fact, 9 of the 13 other public school districts within Butte County do not enroll a single charter school student.
The District has historically welcomed the establishment of charter schools, and continues to encourage the establishment of charter schools that submit petitions in compliance with the California Charter Schools Act of 1992. While relations between PUSD's existing charter schools and the District as authorizer have, largely, been uncontentious, recent events compel the District to set out the District's process and policies for reviewing petitions for the establishment of a charter school.
Facts About the PUSD's Review of Petitions for the Establishment of a Charter School
The District's review of initial charter petitions is governed by Education Code section 47605, California Code of Regulation, Title 5, section 11967.5.1, and PUSD Board Policy and Administrative Regulation 0420.4. California state law controls the District's decision to grant or deny a charter petition – not local politics, union pressure, or "free market/school choice" concerns.
1. The Law Encourages the Establishment of Educationally Sound Charter Schools.
It is true that the California Education Code states the establishment of charter schools should be encouraged. (Cal. Educ. Code § 47605.)
The law, however, does not encourage the establishment of charter schools that are inconsistent with sound educational practice—contrary to the June 20, 2017 law firm letterhead response to the District staff's recommendation and proposed findings for denial of the Achieve Charter High School charter petition.
Charter school petitions that do not meet all the statutory requirements of Education Code section 47605 and California Code of Regulations, Title 5, section 11967.5.1 are subject to denial by the PUSD Board of Trustees.
The National Association of Charter School Authorizers defines a quality authorizer, in part, as one that sets high standards for approving charter applicants and effectively cultivates quality charter schools that meet identified educational needs. Central to these high standards is the requirement that all applicants present a clear and compelling mission, a quality educational program, a solid business plan, effective governance and management structures and systems, and clear evidence of the applicant's capacity to execute its plan successfully.
PUSD Board Policy 0420.4 provides:
"The Board shall approve the charter petition if doing so is consistent with sound educational practice. In granting charters, the Board shall give preference to schools best able to provide comprehensive learning experiences for academically lowachieving students according to standards established by the California- Department of Education (CDE) under Education Code 54032." (Emphasis added.)
A petition for the establishment of a charter school within PUSD must be complete and educationally sound on its face. It is not the PUSD staff or the Board's role to draft or improve the charter petitioners' educational and operational programs for them, nor is the Board required to consider supplemental information provided after submission of the charter petition for review.
Please refer to PUSD Board Policy 0420.4, PUSD Administrative Regulation 0420.4, Education Code section 47605, and California Code of Regulations, Title 5, section 11967.5.1 for the minimum requirements charter petitions must satisfy.
2. The District's "Petition Review Committee"
The proposed charter school's attorney incorrectly stated at the June 20, 2017 Achieve Charter High School grant/deny hearing that:
"The district staff did a disservice to its students by failing to hold the charter review committee, which included the petitioners, in the same manner that is historically done, and as recognized by district board policy."
This is not true.
PUSD Administrative Regulation 0420.4 provides:
"At his/her discretion, the Superintendent or designee may establish a staff advisory committee to review submitted petitions and supporting documentation. Such a committee may be used to evaluate the completeness of proposals, the merits of the proposed educational programs, and any concerns that should be addressed by the petitioners, taking into consideration the criteria specific in law and Board policy for approval or denial of petitions. The Superintendent or designee shall also consult with legal counsel, as appropriate, regarding compliance of the charter proposals with legal requirements." (Emphasis added.)
As is clear from the PUSD Administrative Regulation quoted above, it is within the District Superintendent's discretion whether to establish a staff advisory committee to review submitted charter petitions.
The staff advisory committee is not mandatory, nor are charter petitioners permitted to participate on the committee. The committee, by its very name, is made up of PUSD staff, and is meant to provide technical review of the various components of the charter school petition.
In 2005, when Achieve Charter School submitted its initial K-5 charter petition, a staff advisory committee reviewed the charter petition and found that "there were omissions and unclear description in 15 of the 16 elements of the charter. Based on the information provided, the committee did not feel [the initial Achieve Charter School charter petition] was a reasonably sound educational program and that the proposed program was not likely to succeed." (PUSD Board of Trustees Meeting Minutes – June 7, 2005, Item 4.) Both 2016-2017 ACHS charter petitions were reviewed by staff advisory committees as well.
The only members on the 2005 charter review committee were Board Member Donna Nichols, classified employee and union representative Ginny Brown, teacher and union representative Tamara Conry, Elementary School Principal Jim Dally, Senior Advisory Council member Oliver "Tat" Desoto, and Assistant Superintendent Laura Dearden. Likewise, the only members to participate in the 2016-2017 ACHS charter petitions were former Superintendent Donna Colosky, Assistant Superintendent of Educational Services Michelle John, Assistant Superintendent of Business Services David McCready, Director of Special Services Mary Ficcardi, Director of Human Resources Tom Taylor, Ridgeview High School Principal Mike Lerch, and Director of Honey Run Academy 5-12 and Chair of Attendance Review Board Dena Kapsalis.
Charter petitioners have never been permitted to participate in charter review committees. In fact, in 2005, when Achieve's attorney requested that the District's decision to grant or deny the 2005 Achieve Charter School charter petition be tabled to address the committee's concerns, the District refused, explaining that the law prohibited tabling the original petition to make revisions, and that a whole new charter petition would need to be submitted and presented for review.
3. PUSD Board of Education Meetings
Board meetings are conducted for the purpose of accomplishing district business, and are central to transparency and public participation in the political process.
PUSD Board Bylaw 9323 provides:
"The Board shall not prohibit public criticism of its policies, procedures, programs, services, acts or omissions. (Government Code 54954.3) In addition, the Board may not prohibit public criticism of district employees."
Despite local press commentary that the PUSD Board should ask speakers to clarify or explain their comments, it is not within the District's authority to limit an individual's constitutional right to free speech. "Neither the United States nor California constitution allows government to censor statements merely because they are false and/or defamatory." (Baca v. Moreno Valley Unified School Dist. (C.D. Cal. 1996) 936 F.Supp. 719, 727.)
Charter school public hearings and grant/deny hearings are subject to the same District policies, and the District cannot prohibit or censor the free exchange of ideas, no matter how false and/or defamatory they might be.
District Oversight of Existing PUSD Charter Schools
The District's responsibilities as an authorizing agency only begin with approval of a petition for the establishment of a charter school. The District is legally responsible for conducting oversight of the charter school's operational, fiscal, and educational management. (Cal. Educ. Code §47604.32)
1. Principles of Effective Oversight
The National Association of Charter School Authorizers identifies three core principles of charter authorizing: (1) maintain high standards for schools; (2) uphold school autonomy; and (3) protect student and public interests. It is the responsibility of the District to implement these standards through performance evaluation and compliance monitoring, intervention, and public reporting.
A. Maintain high standards through performance evaluation and compliance monitoring
A quality authorizer maintains high standards for the schools it oversees and closes schools that fail to meet standards and targets set forth in law and by contract.
A quality authorizer does so by visiting each school as appropriate and necessary for collecting data that cannot be obtained otherwise and in accordance with the charter; by evaluating each school annually on its performance and progress toward meeting the standards and targets stated in the charter; and by requiring and reviewing annual financial audits of schools, conducted by a qualified independent auditor.
B. Uphold school autonomy
A quality authorizer assumes responsibility not for the success or failure of individual schools, but for holding schools accountable for their performance.
A quality authorizer does so by collecting information from the school in a manner that minimizes administrative burdens on the school, while ensuring that performance and compliance information is collected with sufficient detail and timeliness to protect student and public interests.
C. Protect student and public interests
A quality authorizer makes the well-being and interests of students the fundamental value informing all the authorizer's actions and decisions; holds the schools accountable for fulfilling fundamental public-education obligations to all students and to the public, which include providing sound governance, management, and stewardship of public funds, and public information and operational transparency in accordance with law.
A quality authorizer does so by ensuring that schools admit students through a random selection process that is open to all students, is publicly verifiable, and does not establish undue barriers to application that exclude students based on socioeconomic, family, or language background, prior academic performance, special education status, or parental involvement; by ensuring that schools provide access to and appropriately serve other special populations of students, including English learners, homeless students, and gifted students, as required by federal and state law; and by ensuring that schools' student discipline policies and actions are legal and fair, and that no student is expelled or counseled out of a school outside of that process.
2. PUSD's Representative on PUSD Charter School Boards
Education Code section 47604(b) provides that "[t]he governing board of a school district that grants a charter for the establishment of a charter school . . . shall be entitled to a single representative on the board of directors of the nonprofit public benefit corporation."
The PUSD Representative on charter school boards of directors is intended to support the District's oversight duties required under state law. If the District fails to comply with any of its oversight responsibilities, then the District may become liable for the debts and obligations of the charter school, or for claims arising from the performance of acts, errors, or omissions by the charter school.
Appointing a representative on a charter school's governing board is, therefore, part of the District's oversight efforts. Placing a highly trained, knowledgeable PUSD representative on the nonprofit's board enables the District to perform its oversight like a high quality authorizer.
Under both PUSD Board Policy and Butte County Board of Education Policy, the authorizing entity's appointed representative may exercise voting rights on the California public benefit nonprofit corporation's board of directors. Because the District has the sole discretion and power to appoint its representative on the charter school's governing board, an oath of office by the District's representatives to the charter school is not appropriate.
The PUSD Representative's purpose is to support the oversight principles identified above, not to guide the relationship between the District and the charter school.
Paradise Unified School District and Charter Schools
While charter schools operating within and authorized by the PUSD are their own educational leaders with their own missions, the District's mission remains:
The mission of Paradise Unified School District, as the educational leader of the community is to graduate knowledgeable, productive, responsible citizens who are motivated to continue learning and are able to function successfully—with integrity—in a complex, changing world.
California School Dashboard
California is field testing a new website called California School Dashboard, which is designed to help communities across the state access important information about K-12 districts and schools.
PUSD Mission Statement
Paradise Unified School District Mission
The mission of Paradise Unified School District, as the educational leader of the community, is to graduate knowledgeable, productive, responsible citizens who are motivated to continue learning and are able to function successfully—with integrity—in a complex, changing world.
Adopted by PUSD's Board of Education, Administrators, Teachers and Staff June 2004
PUSD's Vision for Excellence –
The educational program educates the "whole child," academically, socially, emotionally and physically.

All staff believes every student will learn and achieve.

Each student experiences an engaging, quality, rigorous curriculum with effective instructional practices.

Effective program options accommodate the interests and needs of all students.

Students and staff feel valued, respected and recognized for accomplishments and achievements.

All facilities are clean, safe, secure and inviting to students, parents, staff and the community.

All decisions will ensure fiscal responsibility and solvency for the District.
Our District Educational Goals
Graduate 100% of our students by providing effective instruction, support and multiple pathway options.

Provide leadership training and staff development to develop the skills, knowledge, strategies and experiences to successfully implement an effective instructional program and the goals of the PUSD Strategic Plan.
Provide school environments that are updated, clean, safe/secure, well equipped and supportive of the school community.

Communicate with and involve parents, community and staff so they are well informed and recognized for their contributions to student learning.
Statement of Non­-Discrimination
The Board of Education is committed to equal opportunity for all individuals in education. District
programs, activities, and practices shall be free from discrimination based on race, color, ancestry,
national origin, ethnic group identification, age, religion, marital or parental status, physical or
mental disability, sex, sexual orientation, gender, gender identity or expression, or genetic
information; the perception of one or more of such characteristics; or association with a person or
group with one or more of these actual or perceived characteristics.
The Superintendent or designee shall notify students, parents/guardians, employees, employee
organizations, applicants for admission and employment, and sources of referral for applicants
about the District's policy on non-discrimination and related complaint procedures.
The District's Non-Discrimination Policy and related informational materials shall be published in a
format that parents/guardians can understand and, when required by law, in a language other than
English. Complaints alleging noncompliance with the District's policy of non-­discrimination
should be directed to Tom Taylor, Director of Human Resources, at the Paradise Unified School District
office (6696 Clark Road, Paradise, California, 95969; 530­-872-­6400 ext. 235). A copy of the
District's Non­-Discrimination Policy is available at the District Office.
Americans with Disabilities Act
District programs and facilities shall be in compliance with the Americans with Disabilities Act
and any implementing standards and/or regulations. The Superintendent or designee shall ensure
that the district provides auxiliary aids and services when necessary to afford individuals with
disabilities equal opportunity to participate in or enjoy the benefits of a service, program, or
activity. Individuals with disabilities shall notify the Superintendent or principal if they have a
disability that requires special assistance or services. Reasonable notification should be given prior
to the school­ sponsored function, program, or meeting.
Complaints Regarding Specified Educational Programs
The PUSD Board of Education recognizes that the district has primary responsibility for ensuring compliance with state and federal laws and regulations governing complaints about specified district educational programs. Those programs
designated unit to receive and investigate complaints shall be Paradise Unified School District Educational Services and its compliance designee(s). This unit shall ensure district compliance.
Child Nutrition Programs, District Contact: Tanya Harter, 872-6429 at 6696 Clark Road, Paradise, CA 95969

Consolidated Categorical Aid Programs, Michelle John, 872-6400 ext. 225

at 6696 Clark Road, Paradise, CA 95969

Section 504, Michelle John, 872-6400 ext. 225 at 6696 Clark Road, Paradise, CA 95969

Special Education Programs, Jennifer Foglesong, 872-6400 ext. 244

at 6696 Clark Road, Paradise, CA 95969

Title IX Coordinator, Tom Taylor, 872-6400 ext. 235 at 6696 Clark Road, Paradise, CA 95969
The Paradise Unified School District will receive and investigate complaints which allege unlawful discrimination on the basis of ethnic group identification, religion, age, sex, sexual orientation, gender, race, ancestry, national origin, color, or physical or mental disability in any program or activity conducted by the district which is funded directly by, or that receives or benefits from, any state financial assistance. The district shall investigate and seek to resolve complaints at the local level and shall follow uniform complaint procedures when addressing such complaints.